IT Consulting
IT Consulting for California Based Businesses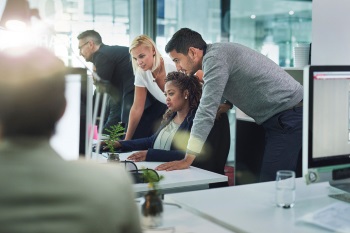 Wouldn't it be nice if you could find one IT partner that can handle it all? Design, implementation, project management? A company that can not only do the networking side, but all the other stuff, cabling, racking, wireless, surveillance, access control, audio/video? You are in luck! CompuVision & Vision Communications can do all this and more for you.
CompuVision & Vision Communications team together with you and your organization to provide a one stop comprehensive architecture and rollout. In addition, our engineers can help you develop IT strategies to maximize your network uptime and productivity.
With over 20 years of experience, our senior network engineers are expert in the design and implementation of all network infrastructure including: physical and virtual servers, routers, switches, firewalls, UPS systems, desktop deployment and more.
Whether you need a new network design, or are just looking to upgrade or scale your existing network to accommodate your growing business, CompuVision's Network Services can help.
Vision Communications engineers are specifically trained and certified in the design of cabling infrastructure, wireless layout, access control and surveillance. In addition our team can provide all of the audio/video design your organization might need.
For a one stop solution, contact CompuVision & Vision Communications today to schedule a free consultation.
Project Management
It is one thing to tell an organization how to accomplish their IT projects; it is another to successfully manage it from Point A to Point Z. CompuVision & Vision Communications have decades of experience in the management of small, medium and large scale projects.
We have the experience, tools and tenacity to make sure your project is on time, and on budget. Contact us today to schedule a meeting and find peace of mind with your next project.